​
Family raised Chesapeake Bay Retrievers bred for companionship, hunting, and conformation.
​
Family raised Great Danes for companionship and conformation.
​
​
Family raised Labrador Retrievers bred for companionship and workability.
​
Health Tested Parents, Breeder Lifetime Support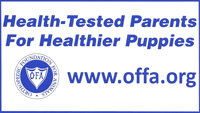 Desert Oasis' Sharp Dressed Man
​
AKA: Swagger
DOB:
COLOR: Black w/white markings
OFA Hips: OFA PreLim Good
OFA Eyes: Normal
Heart: Vet checked Normal
IMGD: Clear
​
Color Testing
D Locus (Dilute) D/D Non dilute
H Locus (Harlequin, Great Dane Type) h/H Carries Harlequin
S Locus (White Spotting, Parti, or Piebald) S/S No white spotting, flash, parti, or piebald
Click here to learn more.
Swagger may have been brought to our kennel as an adult, but he acts as though he has always been with us. He is glued to my side and never leaves.
He is very gentle with kids, despite his large size. He is the sweetest goofiest boy I have ever met.
​
He stands at 30" and weighs between 130lbs and 140lbs.
​
PROVEN STUD TO APPROVED BITCHES.