​
Family raised Chesapeake Bay Retrievers bred for companionship, hunting, and conformation.
​
Family raised Great Danes for companionship and conformation.
​
​
Family raised Labrador Retrievers bred for companionship and workability.
​
Health Tested Parents, Breeder Lifetime Support
Every lady needs a good man by her side!
This is where you get to meet the guys that play a crucial roll in getting your puppy here! Learn their attitudes, their health clearances, and their accomplishments.
​
3R Earned His Wings at Desert Oasis
​
AKA: Alexander or "Xander"
DOB:
COLOR: Black
OFA Hips: Good
PenhIp: 0.26
OFA Eyes:
Heart:
Embark Panel: All Clear
​
Alexander, or Xander comes from 3 Ring Kennels. He is an old dog in a young dogs body. He is a very in tune and robust boy. He loves to go and to cuddle. He has an amazing off switch and never meets a stranger. Great drive, he has a natural point and retrieve. I can't wait to get him in the blind/field.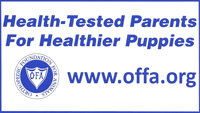 105809959_3585058664842874_3593194189212

104825494_3585058561509551_4181639911072

105666548_3585058761509531_8926002693744

121108495_3920650614617009_6507245705858

120327842_3896494427032628_7124557307299

119710771_3847378038610934_1365884675883

119787790_3847378131944258_1749436515140

119676181_3847378211944250_4049439458974

123653746_3999913703357366_8362680426752

122082224_3951221181559952_2616626164105